CICRA Campus launches first Bachelor of Cyber Security degree in Sri Lanka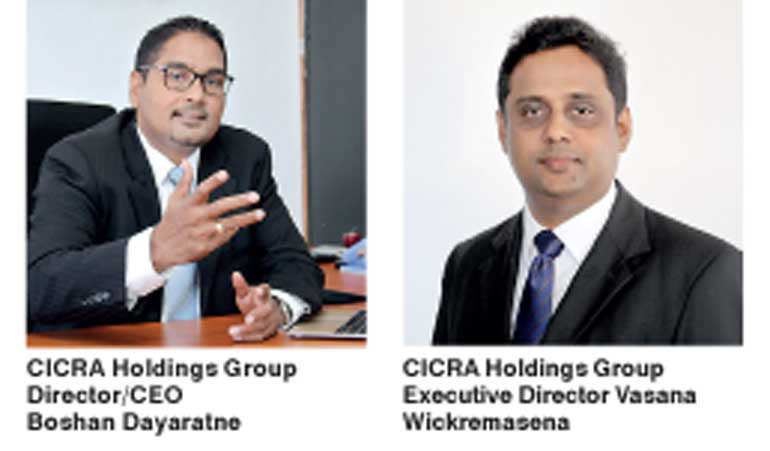 Key initiative in partnership with Australia's top-ranked Deakin University
Six million cyber security job openings by 2019
CICRA Campus, the pioneering cyber security training provider, in partnership with Australia's top-ranked Deakin University, is introducing the first Bachelor of Cyber Security degree in Sri Lanka.
"Parents should consider a cyber security degree for their ambitious child as an alternative to simply following a general IT degree. The cyber security profession is growing rapidly in Sri Lanka and globally," said CICRA Holdings Group Director/CEO Boshan Dayaratne.
"A Cisco report says there are one million cyber security job openings at present. Forbes magazine says this number will climb to six million by 2019. Why waste time trying to be one among thousands of IT graduates when you can obtain technical skills in a niche area highly accepted worldwide," Dayaratne said.
"As Sri Lanka's number 1 destination for cyber security education, CICRA Campus helps its students academically and professionally to make them fully-fledged cyber security specialists at the end of the degree," he said.
"Whether you are a school-leaver looking to pursue an IT degree or an IT professional breaking into cyber security, this is the best route to acquire the top, in-demand skills of today."
"Unlike other IT degrees that touch upon a few aspects of cyber security merely to add the phrase to the degree title, Deakin's Bachelor of Cyber Security is formulated to develop skills that will help you stand out in the job market. It provides a solid foundation of cyber security literacy and the technical skills required by the industry for a cyber security professional, including those allowing you to be able to investigate and combat cybercrime and cyber terrorism," he said.
"A minimum 100 hours of internship is required to complete the program, allowing you to claim your rights professionally at an early stage. CICRA Campus aims to support all students to connect with the industry and find internships as well as job prospects so they no longer have to join companies that undervalue their skills."
"Under a licensing agreement, Deakin University has granted CICRA Campus permission to teach Deakin's curriculum in Colombo. This dramatically reduces the student's cost of college and gives much flexibility," he said.
CICRA Holdings Group Executive Director Vasana Wickremasena said that the students would have three study options.
"The first option is that the students can study all three years at CICRA Campus and graduate from Deakin University," Wickremasena said.
"The second option is for students considering Australian migration with surefire job prospects. They can complete the first year in Sri Lanka and obtain direct entry to Deakin University to follow the second and third years in Australia."
"If you're looking to migrate to Australia, Deakin's Bachelor of Cyber Security is the way to go. Research by institutes such as the US think tank, the Centre for Strategic and International Studies, state that the lack of cyber security professionals is felt more acutely in Australia than in any other country," he said.
"The third option is to study the first two years at CICRA Campus and complete the final year at Deakin University in Australia. This is a great way to gain international exposure and experience college life at one of the best universities in the world," he said.
"Becoming a cyber security expert will guarantee you a wide range of career options across a variety of industries. With a Bachelor's degree from a world-class university such as Deakin, you can fit into a vast range of positions including, but not limited to, Security Analyst, Project Manager, Security System Manager, Cryptographer, Business Analyst, Consultant, Security System Developer/Programmer, Information Security Auditor, Law Enforcement Personnel and IT Security Engineer," he said.
CICRA Campus specialises in cyber security education and has more than 700 alumni, including over 250 EC-Council Certified Ethical Hackers (C|EH) and 70 Certified Hacking Forensic Investigators (C|HFI).
CICRA is the only Sri Lankan company that has attended the US Pacific Command's annual Pacific Endeavour Program along with top US technological companies.
CICRA has launched remarkable initiatives to improve the cyber security standards and awareness in Sri Lanka by hosting annual international cyber security summits, quarterly ethical hacker forums and competitions such as Code Craft, which is a nationwide search for Sri Lanka's most secure programmer.